Okuma Avenger Spinning Reel
Okuma Avenger ABF Spinning Reel equips with cyclonic flow rotor, on/off auto trip bait feeding system, 6BB + 1RB stainless steel bearing , and rigid metal handle. The reel offers in sized from 500 to 8000 that are suitable for different freshwater and saltwater fishing applications.
Features
Multi-disc, Japanese oiled felt drag system
6BB + 1RB for ultimate smoothness and performance
Quick-Set anti-reverse roller bearing
Precision machine cut brass pinion gear
Corrosion resistant graphite body and rotor
CFR: Cyclonic Flow Rotor technology
Precision Elliptical Gearing system
Technology
On/off auto trip bait feeding system
The baitfeeder system incorporates a secondary micro-adjustable drag system at the rear of the reel that allows for precise adjustment of the spool for bait control. In order to disengage the baitfeeder system simply turn the handle. The On/Off lever on the rear of the reel will automatically disengage the baitfeeder system so you can fight your fish with the main drag system.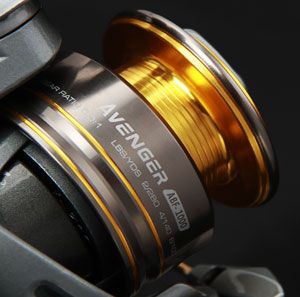 Machined aluminum, 2-tone anodized spool
CFR -Cyclonic Flow Rotor Technology
Cyclonic Flow Rotor (CFR) was designed to create "cyclonic" airflow, which significantly increases air around the rotor, beneath and around the spool, with every turn of the handle. This thoroughly tested design allows for a much faster drying time if the reel becomes wet, minimizing corrosion and extending longevity of the reel.
Avenger ABF Spinning Reel
| | | | | | | |
| --- | --- | --- | --- | --- | --- | --- |
| Model | Gear ratio | Bearings | Weight(g) | Line retrieve(cm) | Max Drag Force(kg) | Mono. line capacity(mm) |
| ABF-500 | 5.0:1 | 6+1BB | 218 | 56 | 3 | 0.15/145, 0.20/80, 0.25/50 |
| ABF-1000 | 5.0:1 | 6+1BB | 234 | 61 | 3 | 0.15/250, 0.20/140, 0.25/90 |
| ABF-3000 | 5.0:1 | 6+1BB | 285 | 71 | 8 | 0.20/310, 0.25/200, 0.30/135 |
| ABF-4000 | 5.0:1 | 6+1BB | 331 | 79 | 10 | 0.25/285, 0.3/190, 0.35/130 |
| ABF-6000 | 4.5:1 | 6+1BB | 483 | 80 | 12 | 0.30/320, 0.35/225, 0.40/170 |
| ABF-8000 | 4.5:1 | 6+1BB | 503 | 87 | 12 | 0.40/230, 0.45/180, 0.50/140 |